Where are emeralds found?
The principal Emerald deposits are currently mined in Colombia, Brazil, and Zambia. Emeralds are mined throughout the world (Pakistan, Afghanistan, Russia, Australia, United States) but these are the three major sources.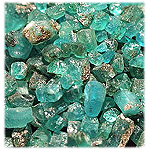 Colombia arguably produces the finest Emeralds. As a general rule, Brazilian Emeralds tend to be darker in tone and more heavily included. The inclusions present in Brazilian Emeralds may be dark inclusions, where the light colored inclusions typically present in Colombian Emeralds (known as jardin) are considered to be less of a factor in adversely impacting the value.
Zambian Emeralds tend to have more of a bluish cast than either Colombian or Brazilian Emeralds, and tend towards a slight grayish cast, which is not present in either Colombian or Brazilian Emeralds. The Zambian and Brazilian Emeralds may also be colored due to the presence of vanadium, whereas Colombian Emeralds usually achieve their coloration from the presence of chromium.
Chivor and Muzo are the two major mining districts in Colombia. Chivor, northeast of Bogota, is in a very rugged terrain with thick forest vegetation. The two major mines of the district are Chivor and Gachala. In this area, the rock is primarily shale and sandstone. Emerald crystals can be found in veins containing pyrite, quartz, and albite.
Muzo is the most famous mining district in Colombia. It is located 60 miles north of Bogota. The climate is hot and humid with relentless rainfall. Muzo, Cosquez, and Pena Blanca are the major mines. Emerald crystals can be found in calcite deposits in shale.
Most of the Emeralds we offer are of Colombian origin, as these tend to have the most widely accepted popularity and represent the best value for our Customers.