How are emeralds formed?
Emerald crystals, as with other natural gemstone crystals, grow one molecule at a time. Each molecule is positioned in the crystal matrix under the optimum conditions. Sufficient time and space is required to allow a gem-quality crystal to grow. The natural Emeralds that are being mined today are actually relics of geologic events that took place hundreds of millions of years ago, deep in the Earth's crust.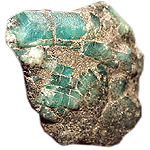 Emerald crystals may form in hydrothermal veins if the necessary conditions are present and if the necessary elements (like beryllium) are present. These hydrothermal veins occur when hydrothermal fluids escape from magma deep in the Earth's crust.
These fluids may contain adequate concentrations of the elements necessary to build a natural Emerald crystal. When they do and if the conditions are optimum, an Emerald crystal may begin to take shape as the hydrothermal fluids begin to cool in deposit veins that have fractures in them. Almost all Emeralds that are sourced from Colombia are formed in this manner. Many of these Colombian Emeralds are associated with calcite deposits that are also formed in the hydrothermal process.
Not all Emeralds are formed in a hydrothermal vein. Some Emeralds are formed in pegmatite deposits. Pegmatites are similar to hydrothermal veins, except that the primary agent in hydrothermal vein formation is hot water and the primary agent in pegmatites is magma, or molten rock. As this magma begins to cool, some elements are left in solution in the remaining fluid. When the necessary elements are present and if conditions are perfect, Emerald crystal formation may occur in these pegmatites.
The scarcity of very nice faceted natural Emerald gemstones is that Mother Nature must satisfy many requirements in order for a gem quality Emerald crystal to grow.