What other natural gemstones look like emeralds?
There are very few natural gemstones rival the intense green hue and brilliance of a top-quality Emerald.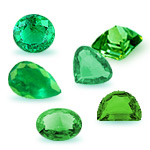 Some Tsavorite, Chrome diopside and Chrome Tourmaline come closest to the Emerald with respect to color and fire. Other green gemstones, such as Peridot, Green Sapphire, Tourmaline (not Chrome), Green Spinel, and Green Zircon lack the intensity and vivid coloration found in very nice Emeralds.
In the Laboratory, separation of Emerald look-alike natural gemstones is a very simple process involving measurement of optical and physical properties. Visual observation is frequently all that is necessary to determine that a green gemstone is not an Emerald, due to the Emerald unique and distinct color.
Descriptive terms are sometimes used before the name of a semi-previous gemstone, like Oriental emerald, which is actually a green sapphire. Labels like Tecla, Vanadium, Uralian, Cape, Prismatic, Night and Oriental are just a few of the names that mask semi-precious natural gemstones as emerald. Other misleading names include:
African Emerald - Green Fluorite
Bohemian Emerald - Green Fluorite
Cape Emerald - Prehnite
Congo Emerald - Dioptase
Emeraldine - Chalcedony dyed green
Emeraldite - Green Tourmaline
Evening Emerald - Peridot
Indian Emerald - Quartz or Chalcedony dyed green
Lithia Emerald - Hiddenite
Mascot Emerald - Emerald doublet
Night Emerald - Peridot
Oriental Emerald - Green Sapphire
South African Emerald - Green Fluorite
Traansvaal Emerald - Green Fluorite
Uralian Emerald - Demantoid Garnet