What are the physical properties of an emerald?
Emerald is the green gemstone variety of the mineral Beryl (the blue variety of the mineral Beryl is Aquamarine). Beryl is beryllium aluminum silicate, with the known chemical composition of Be3Al2Si6O18.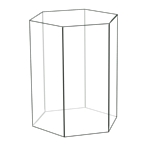 Emerald crystals are hexagonal in nature. Other forms of green Beryl that do not have hexagonal crystal habit and are colored by traces of iron (Emeralds are colored by the presence of trace quantities of chromium and/or vanadium) are frequently heated to remove the green color component and marketed as Aquamarine.
Specific Gravity is a measured value that defines the weight of an object per unit volume. A volume of one cubic centimeter of pure water will have a weight of 1.00 grams and a specific gravity of 1.00. A Sapphire has a specific gravity of approximately 4.00; so if you had an equal volume of water and Sapphire, the Sapphire would weigh approximately four times as much as the water.
The specific gravity of Emerald falls in between these two, as do most gemstones, at 2.72. What this means is that a one-carat Emerald will appear "larger" (in volume) than a one-carat Sapphire by approximately 30%, because the specific gravity of Emerald is approximately 30% less than that of Sapphire.
On the Moh´s hardness scale, the value for Emerald is 7.5 to 8.0. This compares favorably to Tanzanite (6.0 to 7.0) but not favorably to Sapphire and Ruby (9.0). The Moh´s hardness scale basically identifies hardness in terms of how easily a gemstone is scratched. This is not the same as toughness or durability.
Although an Emerald has very good hardness, its toughness and durability rating is fair. It is fairly easy to chip an Emerald due to impact. Setting designs for Emeralds usually take this into account, particularly ring designs.