How should I care for my emerald?
Emeralds are frequently bezel-set to protect them from bumps and knocks. Many jewelry designs for Emeralds may have them surrounded with accent stones such as Diamonds or White Sapphires, to add beauty and to protect them from side impacts. Although Emeralds have a high hardness rating and are not easily scratched (7.5 to 8.0 on Mohs scale), they can be chipped from impact.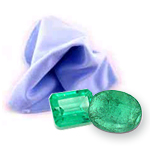 Emeralds typically have inclusions. The inclusions in Emeralds may be solid, liquid or gas filled. Emeralds are typically oil-treated to improve the clarity and luster. Cleaning of Emeralds should take into consideration these facts. Although Emeralds are a fairly hard gemstone, this does not mean that they can be subjected to harsh cleaning.
Emeralds should never be cleaned with steam or any cleaning solution that contains petroleum distillates or any other organic solvent, even if the cleaning solution is a recommended "jewelry cleaner". Most of these are not compatible with the oil treatment of Emeralds.
Emeralds should not be placed in ultrasonic cleaning equipment at all, either, and should not be exposed to high heat. A good rule of thumb is that if the cleaning solution you use is too hot for you to put your hand in, you should not place your Emerald in it.
An Emerald should be cleaned gently with a warm, mild detergent solution and a very soft brush, such as a worn-out toothbrush. We recommend soaking your Emerald in a dishwashing-detergent solution similar to that used to clean regular household dishes, for approximately ten minutes. Then, clean the emerald and mounting with a soft brush. The Emerald should then be rinsed with warm water, and patted dry. You should not leave your Emerald immersed in the cleaning or rinse solution any longer than is necessary. Cleaning should be done no more frequently than is necessary, and in no cases more than several times a year.
After many years of wear, you may wish to have your Emerald re-oiled. Most local Jewelers are familiar with this process and can provide this service.