What is the history of emeralds?
Emerald is derived from a Persian word meaning "green gem". It changed from Greek to Latin as smaragdus, then to esmaurde, esmralde, and in the 16th century to esmeralde.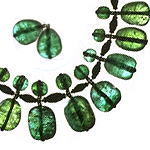 Emeralds are ancient gemstones. According to the oldest book in the world, the Papyrus Prisse, "But good words are more difficult to find than the emerald, for it is by slaves that it is discovered among the rocks."
This book is 4500 years old, but the passage was copied from a writing 1000 years earlier. The book was probably referring to the Egyptian Mines. The Cleopatra Mines were lost for a thousand years, only to be rediscovered in 1818. Today, Egypt is full of excavations and tunnels. The poor quality and small stone production explains the practical reason why the mines were originally abandoned.
It was recorded that Nero would watch the gladiator games through flat emerald crystals. Pliny, the Roman scholar, was the first to suggest emerald was a family member of beryl. It was not until the early 19th century that science proved him right. Further, Pliny stated regarding the emerald, "Indeed, no stone has a color that is more delightful to the eye, for, whereas the sight fixes itself with avidity upon the green grass and the foliage of the trees, we have all the more pleasure in looking upon the emerald, there being no gem in existence more intense than this."
Emeralds were highly prized by the Incas and Aztecs when discovered in Colombia. Many other cultures have embraced emeralds as their own, and ascribe much value to the green gems, but in the sixteenth century violence became part of the emerald's history when Spanish conquistadors looted thousands of emeralds from the mines in South America. This event put South America on the gemstone map. From this time forward, royalty in many different countries looked to South America for a supply of the beautiful green emerald stones to adorn their rings, necklaces, bracelets and crowns.
Whether a centerpiece of Russian crown jewels, part of a collection of the Iranian State Treasure, or a favorite of Indian Shahs, emeralds have long been associated with royalty and status. Shah Jahan of India, famous for building the Taj Mahal, was so enamored by emeralds that he inscribed his collection with sacred texts and used them as talismans.