Freshwater pearls occur in mussels for the same reason salt water pearls occur in oysters. A parasite or a sharp object enters a mussel and cannot be expelled. To reduce the irritation, the mollusk coats the foreign material with the same secretion it uses for shell building, nacre. To culture freshwater mussels, small pieces of live mantle tissue from another mollusk are inserted into the mantle tissue of the host. In freshwater pearls, the insertion alone is sufficient to initiate the production of nacre. Most cultured freshwater pearls are composed entirely of nacre.
Known Facts

Color Key:

orange, pink, white, gray, light purple, rose, black, brown, gold, yellow, silvery, green, blue, bronze.

Chemical Composition:
CaCO3
Hardness:

2.5 - 4.0

Density:

2.66 – 2.78+

Crystal Group:

Not applicable

Ocurrence:

China, Japan

Sign of the Zodiac:

Cancer

Month of the year:

June

The Chinese were the first to culture freshwater pearls and used their techniques to produce shell mabe type pearls in the shape of a Buddha. The first actual cultured freshwater pearls were produced in Lake Biwa, Japan and the initial production appeared in the 1930's. The production thrived for almost 50 years and finally began to decline because of pollutants from the farms, resorts and industries around the lake.

The bulk of today's freshwater pearl production occurs in China. With plentiful and inexpensive labor along with innovative technologies and a huge landmass with countless available lakes, rivers and irrigation ditches China has moved to the forefront of freshwater pearl production. The shapes, luster, and colors of the most recent Chinese production often match an even surpass the original Lake Biwa quality.

Care and Cleaning

Chemicals Reaction: Attacked by many chemicals and all acids, hair spray, perfume, cosmetics, and even acid perspiration can damage nacre.

Ultrasonic Cleaning: Never

Steam cleaning: Never

Warm, Soapy Water: Safe for occasional, thorough cleaning ( if strung, be sure the string is completely dry before wearing). For continued care, wipe cultered pearls with a very soft, clean cloth after each wearing.

Pearls are said to help one see themselves and help improve self-worth. Giving a loved one a gift of pearls is one of the nicest gifts one can give. It allows the wearer to see the love of the person who gave them the pearls.
Illustrations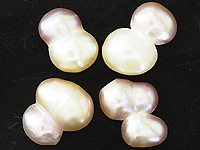 Knowledge Search

/
Enter one or more keywords (i.e madagascar sapphires ).
Gem Library/
Gems Legend and Lore
Some of the latest of ways that gems have been associated with Birthstones and Signs of the Zodiac.
Understanding Gemstones
Learn about Physical and Optical properties, color, clarity and cut of gemstones.
Gems Glossary


Ever wonder what are "Blemish", "Luster", "Saturation" "Uniformity" or "Mine Run" means?

Reference and Links
Recommended books and links to Gem, Jewelry&Mineral Magazines, Gem Institutes and Labs.