The gem's name comes from the French expressions Pierre tour ques or "Turkish stone". The name, which originated in the thirteenth century, reflects the fact that the material probably first arrived in Europe from Turkish sources. The gem turquoise owes its beauty almost entirely to its superb color. It has been used for ornamentation since 3000BC and possibly before.
Known Facts

Color Key:

Blue, Greenish Blue

Refractive Index:

1.62

Chemical Composition:

CuAl6(PO4)4(OH)85H2O

Hardness:

5.5-6

Density:

2.60- 2.90

Crystal Group:

Triclinic

Ocurrence:

Iran; Arizona, USA; India; Tibet; China; Eygpt; Chile; Russia; Australia.

Turquoise can be translucent or opaque with a color that usually ranges from light medium blue to greenish blue. It is often mottled and sometimes contains dark splotches or veins of black matrix running through it. In the case of spiderweb turquoise, fine seams of matrix form distinctive web like patterns. Although matrix may be desirable and attractive, the most valuable turquoise is considered to be an even medium blue, with no matrix at all. The best color is known in the trade as "robins egg" blue. The most important market for turquoise is the American Southwest where it is commonly set in silver as the focal point in many of the Native American designs.

Because turquoise is frequently too chalky or unstable and full of holes and cracks, it is often treated with dye or stabalized with plastic.

Turquoise supposedly helps one to start new projects. Turquoise has been thought to warn the wearer of danger or illness by changing color. In the 13th century, Turquoise was thought to protect the wearer from falling especially from horses. Legend has it that the Indians believed that if turquoise was affixed to a bow, the arrows shot from it would always hit their mark. It was also believed to bring happiness and good fortune to all.
Illustrations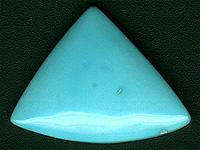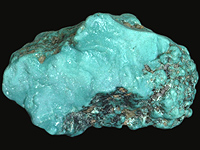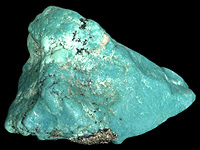 Knowledge Search

/
Enter one or more keywords (i.e madagascar sapphires ).
Gem Library/
Gems Legend and Lore
Some of the latest of ways that gems have been associated with Birthstones and Signs of the Zodiac.
Understanding Gemstones
Learn about Physical and Optical properties, color, clarity and cut of gemstones.
Gems Glossary


Ever wonder what are "Blemish", "Luster", "Saturation" "Uniformity" or "Mine Run" means?

Reference and Links
Recommended books and links to Gem, Jewelry&Mineral Magazines, Gem Institutes and Labs.