Stibiotantalite is a strongly dispersive oxide mineral of antimony and tantalum. It is found primarily in complex granite pegmatites. If the quantity of niobium exceeds the tantalum content, the mineral is called stibiocolumbite.
It is translucent to transparent with a hardness of 5.5 on Moh's scale and an adamantine luster
The name Stibiotantalite reflects its antimony (Greek - stibi) content and similarity to Tantalite. It forms transparent or semi-transparent yellowish to brownish equant or flattened prismatic crystals. It is heavier, softer and brighter than tantalite.
Stibiotantalite can be cut into bright fiery golden-brown gems which have some resemblance to sphalerite.
Known Facts

Color Key:

Cream to yellow to dark or greenish brown, reddish.

Refractive Index:

1.55 - 1.69

Chemical Composition:
Sb(Ta,Nb)O4
Hardness:

5.5

Density:

6 - 7.57

Crystal Group:

Orthorhombic

Ocurrence:

Mozambique, USA (CA), Myanmar, Afghhanistan, Brazil.

Stibiotantalite is found in veins and walls associated with tin mines. Due to its lack of hardness, it is more suitable in collections rather than in jewelry.
Illustrations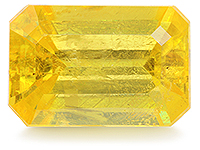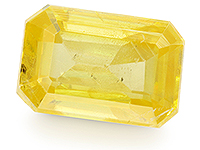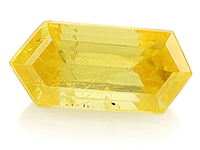 Knowledge Search

/
Enter one or more keywords (i.e madagascar sapphires ).
Gem Library/
Gems Legend and Lore
Some of the latest of ways that gems have been associated with Birthstones and Signs of the Zodiac.
Understanding Gemstones
Learn about Physical and Optical properties, color, clarity and cut of gemstones.
Gems Glossary


Ever wonder what are "Blemish", "Luster", "Saturation" "Uniformity" or "Mine Run" means?

Reference and Links
Recommended books and links to Gem, Jewelry&Mineral Magazines, Gem Institutes and Labs.