Sphene is a rare collector stone with an unusually high refractive index and and a hardness of 5 -5.5. Because of it's high dispersion and refractive index, a well cut sphene can display stunning brilliance. Sphene is somewhat soft and as a result is more suitable as a pendant than as a ring stone. Sphene is rarely very clean.
Known Facts

Color Key:

Green, yellow. brown

Refractive Index:

(1.885-1.990,)-(1.915-2.050)

Chemical Composition:
CaTiSiO5
Hardness:

5.5

Density:

3.52-3.54

Crystal Group:

Monoclinic

Ocurrence:

Austria; India; USA; Brazil; Ankarafa Area, Daraina Commune, Vohémar District, Sava, Madagascar

Brightness in gemstones is an attribute of visual perception in which a gemstone appears to be radiating light. But few gems actually radiate light and what we see is reflected light. Brightness in the context of gemstones is a subjective attribute and there is no way to quantify it.

The "fire" of Sphene derives from its very high dispersion combined with a high index of refraction. Gems with a high refractive index, and a high dispersion will usually elicit an impression of greater brightness. A diamond's refractive index is 2.417 and its dispersion is .044. Sphene's refractive index is 1.900 – 2.034 and its dispersion is .051 so it is arguably a top range brilliancy contender if brilliance could actually quantified.

The dispersion of sphene exceeds that of diamonds and shows flashes of gold, yellow, red and green that diamond cannot. And due to this high dispersion and pleochrism, a well cut stone can reveal a stunning brilliance that will vary in appearance as a function of the light source and the angle of view. Generally it is green, with just about every other color of the rainbow mixed in somewhere.
Illustrations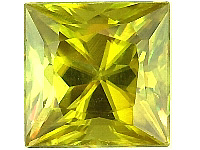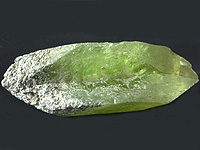 Knowledge Search

/
Enter one or more keywords (i.e madagascar sapphires ).
Gem Library/
Gems Legend and Lore
Some of the latest of ways that gems have been associated with Birthstones and Signs of the Zodiac.
Understanding Gemstones
Learn about Physical and Optical properties, color, clarity and cut of gemstones.
Gems Glossary


Ever wonder what are "Blemish", "Luster", "Saturation" "Uniformity" or "Mine Run" means?

Reference and Links
Recommended books and links to Gem, Jewelry&Mineral Magazines, Gem Institutes and Labs.