As members of the garnet group, spessartites are noteworthy for their high refractive index and radiant brilliance. And while gemologists usually refer to them as Spessartites, the trade name "Mandarin Garnet" has also been adopted for the bright orangey Fanta like colors. The orange color is due to the presence of Manganese.
Known Facts

Color Key:

Orange, yellow, brown

Refractive Index:

1.79-1.81

Chemical Composition:

Mn3Al2(SiO4)3

Hardness:

7.25

Density:

4.14-4.20

Crystal Group:

Cubic

Ocurrence:

Namibia, Kenya, Tanzania, Nigeria, Germany, Ceylon, Burma, Nigeria, Madagascar.

Spessartite has always been a rare stone. Recent discoveries in Namibia, Mozambique, Kenya, Madagascar, Nigeria, and Tanzania led to an increase in production but pockets of clean material have proven to be illusive. Although the output was significant, the percentage of fine material in larger sizes has always been small.
Illustrations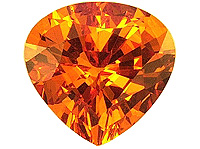 Knowledge Search

/
Enter one or more keywords (i.e madagascar sapphires ).
Gem Library/
Gems Legend and Lore
Some of the latest of ways that gems have been associated with Birthstones and Signs of the Zodiac.
Understanding Gemstones
Learn about Physical and Optical properties, color, clarity and cut of gemstones.
Gems Glossary


Ever wonder what are "Blemish", "Luster", "Saturation" "Uniformity" or "Mine Run" means?

Reference and Links
Recommended books and links to Gem, Jewelry&Mineral Magazines, Gem Institutes and Labs.