Sillimanite, also called FIBROLITE, is a brown, pale green, or white glassy silicate mineral that often occurs in long, slender, needle like crystals frequently found in fibrous aggregates. An aluminum silicate, (Al2SiO5), it occurs in high-temperature regionally metamorphosed or sedimentary clay-rich rocks (e.g., schists and gneisses). Sillimanite is found at many points in France, Madagascar, and the eastern United States and also occurs in pale sapphire-blue colors in the gravels of Sri Lanka.
Known Facts

Color Key:

violet blue, grey green, colorless, brown, green,

Refractive Index:

1.658 - 1.678

Chemical Composition:
Al2SiO5
Hardness:

6 - 7.5

Density:

3.25

Crystal Group:

Orthorhombic

Ocurrence:

France, Madagascar, U.S.A., Sri Lanka, Burma. Kenya, Myanmar.

Sillimanite is named after the American chemist Benjamin Silliman. It was first described in 1824 as an occurrence in Chester, Connecticut, USA. A common variety of sillimanite is known as fibrolite that was so named because the mineral appears like a bunch of fibres twisted together when viewed in thin section or even by the naked eye. The hardness for the crystalline version of the mineral is 7.5 while the fibrous variety may vary between 6 and 7.

Sillimanite crystallizes in the orthorhombic system and is polymorphous with both kyanite and andalusite. All three stones share the same chemical composition but vary in crystal formation. Natural sillimanite is the best raw material for the manufacture of high alumina refractories but its use on a large scale is not possible due to the high cost and required purification. With the advent of online selling Sillimanite has become more popular with collectors while also enjoying a resurgence among metaphysical philosophers and healers.
Illustrations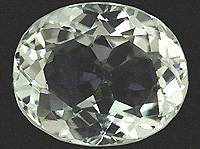 Knowledge Search

/
Enter one or more keywords (i.e madagascar sapphires ).
Gem Library/
Gems Legend and Lore
Some of the latest of ways that gems have been associated with Birthstones and Signs of the Zodiac.
Understanding Gemstones
Learn about Physical and Optical properties, color, clarity and cut of gemstones.
Gems Glossary


Ever wonder what are "Blemish", "Luster", "Saturation" "Uniformity" or "Mine Run" means?

Reference and Links
Recommended books and links to Gem, Jewelry&Mineral Magazines, Gem Institutes and Labs.