Faceted sapphirine is exceedingly rare although the material does occur in transparent grains. The refractive index is very close to that of idocrase.
Known Facts

Color Key:

Pale blue, bluish gray, greenish gray, green, purplish pink

Refractive Index:

1.714-1.723

Hardness:

7.5

Density:

3.4-3.5

Crystal Group:

Monoclinic

Ocurrence:

U.S.A., U.K., Sweden, Czechoslovakia, Japan, South Africa, Greenland, Madagascar, Italy, Sri Lanka
Illustrations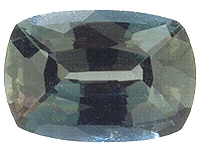 Knowledge Search

/
Enter one or more keywords (i.e madagascar sapphires ).
Gem Library/
Gems Legend and Lore
Some of the latest of ways that gems have been associated with Birthstones and Signs of the Zodiac.
Understanding Gemstones
Learn about Physical and Optical properties, color, clarity and cut of gemstones.
Gems Glossary


Ever wonder what are "Blemish", "Luster", "Saturation" "Uniformity" or "Mine Run" means?

Reference and Links
Recommended books and links to Gem, Jewelry&Mineral Magazines, Gem Institutes and Labs.