Rubelite is the intense hot pink - red color variety of tourmaline. Generally not as clean as pink tourmaline, it looks great under any light conditions. It is greatly prized and sought after because of its intense saturated color. The price of rubelite is considerably higher than the more common pink tourmaline.
Known Facts

Color Key:

Hot Pink to Intense red

Refractive Index:

1.624(+.005, -.005) - 1.644(+.006, -.006)

Chemical Composition:

(NaCa)(LI,MgFe,Al)9B3Si6(O,OH)31

Hardness:

7-7.5

Density:

3.06 (.05, +.15)

Crystal Group:

Hexagonal

Ocurrence:

Brazil, Madagascar, Nigeria, U.S.A.

Rubelite, named for the Latin word for red. It is a high pressure, high temperature mineral. Usually it occurs in granite pegmatites, or in granites that have undergone metasomatism by boron bearing fluids. It is also found in sediments adjacent to such granites, and as an accessory mineral in schists and gneisses. Rubelite is rich in lithium and free of magnesium and iron.

Pink Tourmaline promotes female balance and protection. Green Tourmaline promotes male balance. According to legend, all colors of tourmaline protect the wearer against many dangers and misfortune.
Illustrations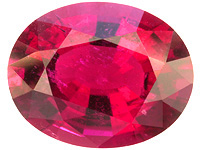 Knowledge Search

/
Enter one or more keywords (i.e madagascar sapphires ).
Gem Library/
Gems Legend and Lore
Some of the latest of ways that gems have been associated with Birthstones and Signs of the Zodiac.
Understanding Gemstones
Learn about Physical and Optical properties, color, clarity and cut of gemstones.
Gems Glossary


Ever wonder what are "Blemish", "Luster", "Saturation" "Uniformity" or "Mine Run" means?

Reference and Links
Recommended books and links to Gem, Jewelry&Mineral Magazines, Gem Institutes and Labs.