Quartz is the most abundant mineral in the earth's continental crust. The quartz groups including both crystalline varieties like citrine, amethyst, and rock crystal as well as the crypto-crystalline varieties like chalcedony, jasper, chrysoprase, and a host of other agates. The name quartz derives from the Greek word 'krustallos' meaning ice because the Greeks believed that quartz was ice that never melted as it was created by the gods.
The strongly pink or rose colored varieties of quartz are known collectively as rose quartz. Rose quartz is normally found as translucent fibrous masses in most deposits but well large formed crystals are also found at some localities in Brazil. It varies in color from a strong rose pink to nearly white and is nearly always cloudy and never entirely clean.
Known Facts

Color Key:

Pink, Rose

Refractive Index:

1.544 - 1.553

Chemical Composition:
SiO2
Hardness:

7

Density:

2.65

Crystal Group:

Trigonal

Ocurrence:

Brazil, Madagascar, India, USA, Japan, Germany, and Russia.

Rose quartz is usually too cloudy to be faceted into clean and brilliant gemstones. Gemmy rose quartz is often cut en cabochon where pieces will be impressive in terms of both color and size. There is no more affordable gemstone of a similar color and Rose quartz is frequently used as the focus of modern silver and astrological jewelry. It is also a very attractive ornamental stone and may be carved into spheres, pyramids, obelisks, figurines and ornate statues. The coloration is due to the presence of titanium, iron, or manganese.

Rose quartz often contains microscopic needles of rutile that are oriented in specific crystallographic directions within the host. It is these inclusions which give rise to the chatoyancy and asterism that we see in some stones when the light source is directed in the correct direction.
Illustrations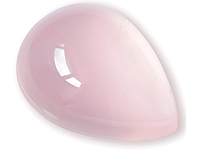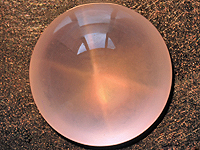 Knowledge Search

/
Enter one or more keywords (i.e madagascar sapphires ).
Gem Library/
Gems Legend and Lore
Some of the latest of ways that gems have been associated with Birthstones and Signs of the Zodiac.
Understanding Gemstones
Learn about Physical and Optical properties, color, clarity and cut of gemstones.
Gems Glossary


Ever wonder what are "Blemish", "Luster", "Saturation" "Uniformity" or "Mine Run" means?

Reference and Links
Recommended books and links to Gem, Jewelry&Mineral Magazines, Gem Institutes and Labs.