Rhodolite garnet is the name applied to a mixture of pyrope and almandite. Rhodolite tends to be lighter in color than most other kinds of red garnets. It can be easily confused with rubies because of the similarity in color.
Known Facts

Color Key:

red, purple-red

Refractive Index:

1.75 - 1.77

Chemical Composition:

Al2(SiO4)3

Hardness:

7.25

Density:

3.74 - 3.94

Crystal Group:

Cubic

Ocurrence:

Brazil, East Africa, Ceylon, India, Madagascar, Zimbabwe

Rhodolite garnets should be differentiated from its darker cousins red-like almandine and pyrope. The mixture of red and violet in rhodolites is highly desirable and popular. Purple or purple-red is the most expensive and sought color for rhodolite and large clean transparent stones are uncommon and valuable.
Illustrations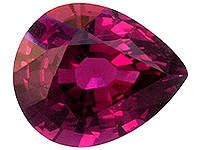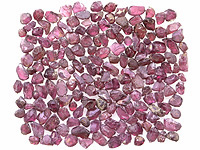 Knowledge Search

/
Enter one or more keywords (i.e madagascar sapphires ).
Gem Library/
Gems Legend and Lore
Some of the latest of ways that gems have been associated with Birthstones and Signs of the Zodiac.
Understanding Gemstones
Learn about Physical and Optical properties, color, clarity and cut of gemstones.
Gems Glossary


Ever wonder what are "Blemish", "Luster", "Saturation" "Uniformity" or "Mine Run" means?

Reference and Links
Recommended books and links to Gem, Jewelry&Mineral Magazines, Gem Institutes and Labs.