Although rhodochrosite is found in many different localities, only a few supply material suitable for ornamental purposes. Gem rhodochrosite is characterized by its lovely color which may be variegated and banded in a range of shades ranging from white to pink. Found as rhombohedral crystals of the trigonal system, it is primarily cut as cabochons or carved. Stones are rarely clean enough to be faceted.
Known Facts

Color Key:

Rose red, raspberry red, pink, grey, fawn, brown

Refractive Index:

1.600 – 1.820

Chemical Composition:
MnCO3
Hardness:

4

Density:

3.45 – 3.70

Crystal Group:

Trigonal

Ocurrence:

Argentina; Colorado, U.S.A.; Romania; Hungary; India; South Africa; Saxony; Chile; Peru; Mexico.

The most important rhodochrosite deposits are in Argentina, near San Luis, 144 miles (230 km) east of Mendoza. Rhodochrosite has also been found as stalagmites in the abandoned silver mines of the Incas. Other deposits are in Chile, Mexico, Peru, South Africa, and the United States. The transparent stones are usually faceted and are always in demand by collectors. The largest faceted rhodochrosite weighs 59.65cts. and is kept in a private collection in South Africa.

The name Rhodochrosite is derived from the Greek (rose colored).
Illustrations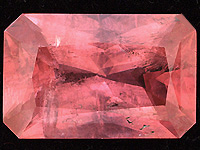 Knowledge Search

/
Enter one or more keywords (i.e madagascar sapphires ).
Gem Library/
Gems Legend and Lore
Some of the latest of ways that gems have been associated with Birthstones and Signs of the Zodiac.
Understanding Gemstones
Learn about Physical and Optical properties, color, clarity and cut of gemstones.
Gems Glossary


Ever wonder what are "Blemish", "Luster", "Saturation" "Uniformity" or "Mine Run" means?

Reference and Links
Recommended books and links to Gem, Jewelry&Mineral Magazines, Gem Institutes and Labs.