Prehnite is an orthorhombic mineral which is rarely found as distinct crystals. Found in association with volcanic rocks, it usually forms in aggregates with botryoidal habit. Prehnite is typically pale green to yellowish green with a white streak. It is named after a Dutchman, Colonel H. von Prehn, who discovered the mineral at the Cape of Good Hope, South Africa, and brought the first specimens to Europe.
Known Facts

Color Key:

yellow green, brown, yellow brown, oil green

Refractive Index:

1.61 - 1.64

Chemical Composition:

(CA2Al2SI3O10(OH)2)

Hardness:

6

Density:

2.80 - 2.95

Crystal Group:

Orthorhombic

Ocurrence:

China, France, U.S.A., Scotland, Australia

Prehnite occurs most commonly in veins and cavities in igneous rocks, often in association with zeolites. Prehnite is never clean enough to produce bright faceted gemstones but beautiful yellow to blue green cabochons can be cut from the right material.
Illustrations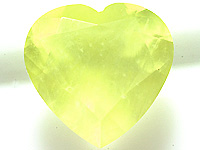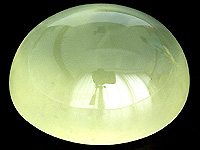 Knowledge Search

/
Enter one or more keywords (i.e madagascar sapphires ).
Gem Library/
Gems Legend and Lore
Some of the latest of ways that gems have been associated with Birthstones and Signs of the Zodiac.
Understanding Gemstones
Learn about Physical and Optical properties, color, clarity and cut of gemstones.
Gems Glossary


Ever wonder what are "Blemish", "Luster", "Saturation" "Uniformity" or "Mine Run" means?

Reference and Links
Recommended books and links to Gem, Jewelry&Mineral Magazines, Gem Institutes and Labs.