Pollucite was discovered in 1846 and named after Pollux a brother of Helen of Troy in Greek mythology. It is the only mineral were cesium is the essential element. Gems are normally small and under 10cts. in size.
Known Facts

Color Key:

Colorless, white, gray, pale pink, blue.

Refractive Index:

1.518 - 1.525

Chemical Composition:

(Cs,Na)2 (Al2 SI4) O12 - H2O

Hardness:

6.5 - 7.0

Density:

2.85 - 2.94

Crystal Group:

Cubic

Ocurrence:

Diego County CA, Middletown CT, USA; Manitoba, Canada; Elba, Italy; Finland; Kazakhstan; USSR; Karibib, Namibia; Molo, Myanmar.

Pollucite forms in granite pegmatites as fine grained cubic crystals with vitreous to slightly greasy luster and conchoidal or brittle fracture. Inclusions are usually whitish, resembling spikes or balls or snowflakes. Pollucite is transparent and colorless and is remarkable as one of the few colorless gemstones with a single refractive index (1.52) between 1.50 and 1.70. Pollucite is a keenly collected gemstone species despite its unassuming appearance.
Illustrations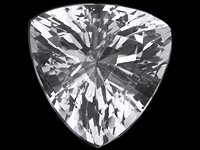 Knowledge Search

/
Enter one or more keywords (i.e madagascar sapphires ).
Gem Library/
Gems Legend and Lore
Some of the latest of ways that gems have been associated with Birthstones and Signs of the Zodiac.
Understanding Gemstones
Learn about Physical and Optical properties, color, clarity and cut of gemstones.
Gems Glossary


Ever wonder what are "Blemish", "Luster", "Saturation" "Uniformity" or "Mine Run" means?

Reference and Links
Recommended books and links to Gem, Jewelry&Mineral Magazines, Gem Institutes and Labs.