Grossular Garnet is found in a variety of colors including, yellow, brown, white, colorless, green, violet red, and orangey red. Stones from the deposit in Mali are typically yellowish green or brownish green. Some gemologists refer to them as a grossular-andradite mixture. However, it should be noted that the concentration of andradite is only 5% so the stone is actually more of a grossularite.
Illustrations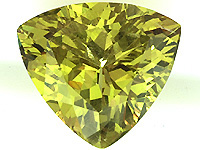 Knowledge Search

/
Enter one or more keywords (i.e madagascar sapphires ).
Gem Library/
Gems Legend and Lore
Some of the latest of ways that gems have been associated with Birthstones and Signs of the Zodiac.
Understanding Gemstones
Learn about Physical and Optical properties, color, clarity and cut of gemstones.
Gems Glossary


Ever wonder what are "Blemish", "Luster", "Saturation" "Uniformity" or "Mine Run" means?

Reference and Links
Recommended books and links to Gem, Jewelry&Mineral Magazines, Gem Institutes and Labs.