Unlike most other gem materials, lapis lazuli is a complex aggregate of several minerals particularly hauyne, sodolite, nosean, and lazurite. The indefinite composition of the material affects it properties and the density ranges between 2.7 and 2.9. Lapis is also frequently found with inclusions of pyrite. The most famous locality for lapis is in North Eastern Afghanistan.
Illustrations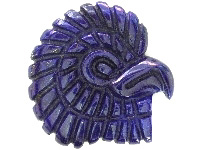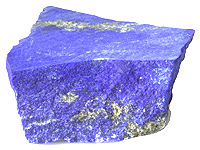 Knowledge Search

/
Enter one or more keywords (i.e madagascar sapphires ).
Gem Library/
Gems Legend and Lore
Some of the latest of ways that gems have been associated with Birthstones and Signs of the Zodiac.
Understanding Gemstones
Learn about Physical and Optical properties, color, clarity and cut of gemstones.
Gems Glossary


Ever wonder what are "Blemish", "Luster", "Saturation" "Uniformity" or "Mine Run" means?

Reference and Links
Recommended books and links to Gem, Jewelry&Mineral Magazines, Gem Institutes and Labs.