A rare magnesium iron borosilicate, kornerupine has been faceted as a gem, but its interest is mainly for gemologists and collectors. The mineral was discovered in Greenland in 1884 as a pale green to sage green material with a radiating columnar habit in translucent to transparent pieces. It was named in honor of the Danish geologist, Andreas Nikolaus Kornerup. The material from Greenland turned out to be scarce and no other significant deposits were ever reported.
Known Facts

Color Key:

Brown, brownish red, yellow-green, light green, blue green

Refractive Index:

1.665 Ė 1.683

Hardness:

7

Density:

3.25 - 3.35

Crystal Group:

Orthorhombic

Ocurrence:

Sri Lanka, Tanzania, Kenya, Madagascar, and Myanmar.

Kornerupine has also been unearthed in Madagascar, Sri Lanka, Myanmar, Kenya, and Tanzania. Kornerupine catís eyes have been found in surprisingly large quantities in Sri Lanka.

Kornerupine is strongly pleochroic but most of the stones end up showing brown or brownish green. Occasional highly saturated green and blue stones from East Africa have been unearthed but very few are clean in sizes over 1/2ct. The beautiful colors of these stones has been attributed to the presence of chromium or vanadium.

With a hardness of 7 and no significant cleavage, kornerupine is hard enough to be used in most kinds of jewelry but it will never be popular due to its rarity.
Illustrations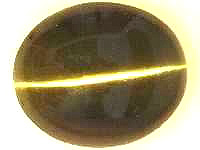 Knowledge Search

/
Enter one or more keywords (i.e madagascar sapphires ).
Gem Library/
Gems Legend and Lore
Some of the latest of ways that gems have been associated with Birthstones and Signs of the Zodiac.
Understanding Gemstones
Learn about Physical and Optical properties, color, clarity and cut of gemstones.
Gems Glossary


Ever wonder what are "Blemish", "Luster", "Saturation" "Uniformity" or "Mine Run" means?

Reference and Links
Recommended books and links to Gem, Jewelry&Mineral Magazines, Gem Institutes and Labs.