Also known as dichroite, water sapphire, and cordierite, Iolite is a blue silicate mineral that occurs as crystals or grains in igneous rocks. When clean, blue iolite can be faceted to produce beautiful gemstones.
Known Facts

Color Key:

violet, blue, dark blue,

Refractive Index:

1.53 - 1.55

Chemical Composition:

MG2AL4SI5O18

Hardness:

7 - 7.5

Density:

2.57 - 2.66

Crystal Group:

Orthorhombic

Ocurrence:

Sri Lanka, Burma, India, Madagascar, Canada, Namibia, Tanzania, Norway, U.S.A., Brazil, Namibia

Iolite derives its name from the Greek word 'io', meaning violet flower. It is distinctive because of its strong pleochroism .. hence the name dichroite. Depending on the angle from which it is viewed, a stone can vary from bluish-purple to a wan grey-yellow. Sometimes iolite is also known as 'water sapphire' because a clear stone can resemble a slightly violet sapphire.

Iolite is somewhat brittle and is often cut into stepped rectangles. Its strong pleochroism makes orientation an important factor in determining the best way to cut the stone. Iolite is an inexpensive gemstone but as with almost every other gemstone, large clean sizes are rare and much more valuable. The best iolites come from Sri Lanka, Madagascar, and Burma. Iolite has enjoyed a recent resurgence in popularity due to its affordability and similarity to tanzanite and sapphire at a much lower price.

The largest iolite crystal ever found weighed more than 24,000 carats, and was discovered in Wyoming, USA.
Illustrations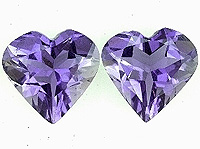 Knowledge Search

/
Enter one or more keywords (i.e madagascar sapphires ).
Gem Library/
Gems Legend and Lore
Some of the latest of ways that gems have been associated with Birthstones and Signs of the Zodiac.
Understanding Gemstones
Learn about Physical and Optical properties, color, clarity and cut of gemstones.
Gems Glossary


Ever wonder what are "Blemish", "Luster", "Saturation" "Uniformity" or "Mine Run" means?

Reference and Links
Recommended books and links to Gem, Jewelry&Mineral Magazines, Gem Institutes and Labs.