Hessonite, also known as cinnamon stone or cinnamon garnet, is the most common variety of grossularite. The name comes from the Greek hesson, meaning inferior which is an allusion to the lower hardness and density compared to most other garnet species. With a refractive index of 1.742 to 1.748, and an SG of 3.65 both values are lower than the respective properties in other garnets.
Known Facts

Color Key:

Brownish-orange, brownish yellow, aurora red

Refractive Index:

1.72-1.74

Chemical Composition:

Ca3Al2(SIO4)3

Hardness:

7.25

Density:

3.65

Crystal Group:

Cubic

Ocurrence:

Sri Lanka, Mexico, Brazil, Canada, Madagascar

Hessonite garnet is an orange, brown, or yellowish variety of grossularite. It is common in the gem gravels of Sri Lanka and Madagascar. Some hessonite is also found in Brazil, Canada, and Mexico and East Africa but Sri Lanka is notably the most important source for hessonites. From a gemological perspective the peculiar and unique treacle type inclusions give the stone´s interior an oily or even glasslike appearance that is a distinctive and easy to recognize.
Illustrations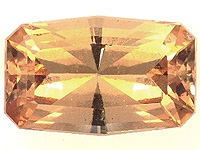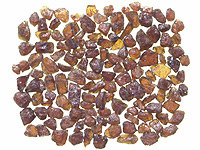 Knowledge Search

/
Enter one or more keywords (i.e madagascar sapphires ).
Gem Library/
Gems Legend and Lore
Some of the latest of ways that gems have been associated with Birthstones and Signs of the Zodiac.
Understanding Gemstones
Learn about Physical and Optical properties, color, clarity and cut of gemstones.
Gems Glossary


Ever wonder what are "Blemish", "Luster", "Saturation" "Uniformity" or "Mine Run" means?

Reference and Links
Recommended books and links to Gem, Jewelry&Mineral Magazines, Gem Institutes and Labs.