Hambergite is named after the Swedish Mineralogist, Axel Hamburg. It forms in flattened prismatic orthorhombic crystals with vitreous to dull luster. It is a brittle mineral with perfect cleavage in one direction and conchoidal to uneven fracture.
Known Facts

Color Key:

Colorless, white, grayish white, yellowish white.

Refractive Index:

1.55 - 1.63

Chemical Composition:

Be2 BO3 (OH,F)

Hardness:

7.5

Density:

2.35 - 2.37

Crystal Group:

Orthorhombic

Ocurrence:

Anjanabanoana, Madagascar; Molo, Myanmar; India; Czech Republic; California, U.S.A.; Langesundsfjord, Norway.

Hambergite was originally discovered in southern Norway but that material was not clean enough to be considered gem material. The most important current source is probably in Anjanabanoana, Madagascar. Recently, some nice material has also been unearthed in Molo, Myanmar, but most of the crystals are small.

Hambergite has the lowest known density of any gem with such a high birefringence (.072). These unique properties make it easy to identify. Stones have little fire any may resemble quartz but with the high birefringence, hambergite is nearly impossible to misidentify.

References:

R. Webster, 1994, Fifth edition, Gems Their Sources, Descriptions And Identification, Reed Educational and Professional Publishing Ltd.
Illustrations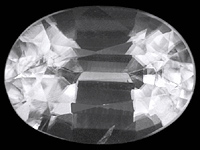 Knowledge Search

/
Enter one or more keywords (i.e madagascar sapphires ).
Gem Library/
Gems Legend and Lore
Some of the latest of ways that gems have been associated with Birthstones and Signs of the Zodiac.
Understanding Gemstones
Learn about Physical and Optical properties, color, clarity and cut of gemstones.
Gems Glossary


Ever wonder what are "Blemish", "Luster", "Saturation" "Uniformity" or "Mine Run" means?

Reference and Links
Recommended books and links to Gem, Jewelry&Mineral Magazines, Gem Institutes and Labs.