Colorless beryl is known as goshenite. The name originates from Goshen, Massachusetts where it was originally discovered.
Known Facts

Color Key:

Near Colorless

Refractive Index:

1.564–1.595

Chemical Composition:

Be3Al2(SiO3)6

Hardness:

7.5 - 8

Density:

2.76

Crystal Group:

Hexagonal

Ocurrence:

USA, Madagascar

Since all the varieties of beryl are based on coloration from variations in chemistry, it could be assumed that goshenite is the purest variety of beryl. However, there are several elements that can act as color inhibitors so this assumption may not always be true. Goshenite is found to some extent in almost all beryl localities.

In the past, goshenite was used for manufacturing eyeglasses and lenses because of its transparency. Nowadays, it is most commonly used for gemstone purposes but it's actually more of a collector stone.
Illustrations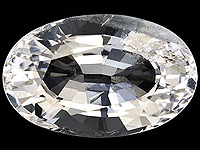 Knowledge Search

/
Enter one or more keywords (i.e madagascar sapphires ).
Gem Library/
Gems Legend and Lore
Some of the latest of ways that gems have been associated with Birthstones and Signs of the Zodiac.
Understanding Gemstones
Learn about Physical and Optical properties, color, clarity and cut of gemstones.
Gems Glossary


Ever wonder what are "Blemish", "Luster", "Saturation" "Uniformity" or "Mine Run" means?

Reference and Links
Recommended books and links to Gem, Jewelry&Mineral Magazines, Gem Institutes and Labs.