The dark brownish-green color or pistachio-green color of epidote is characteristic of the mineral and gives the mineral its' alternative name – pistacite. Closely related to zoisite which is orthorhombic, epidote is a calcium aluminum silicate with some iron, Ca2(Fe,Al) 3(SiO4)3(OH). The mineral crystallizes in the monoclinic system with vertically striated crystals that seldom display distinct terminations. Epidote is strongly pleochroic the colors being green, brown, and yellow. Epidote is a fairly common mineral and is found at many places in the alps.
Known Facts

Color Key:

Green, brown, yellow.

Refractive Index:

1.736 - 1.770

Chemical Composition:

Calcium aluminum silicate

Hardness:

6.5

Density:

3.4

Crystal Group:

Monoclinic

Ocurrence:

Austria, Switzerland, France, Czechoslovakia, Norway, USA, Mexico, Kenya, Mali.
Illustrations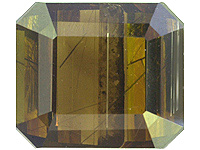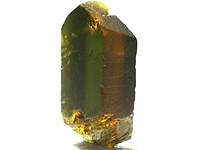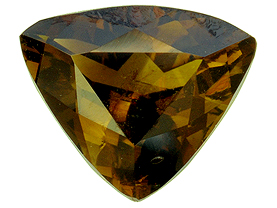 Knowledge Search

/
Enter one or more keywords (i.e madagascar sapphires ).
Gem Library/
Gems Legend and Lore
Some of the latest of ways that gems have been associated with Birthstones and Signs of the Zodiac.
Understanding Gemstones
Learn about Physical and Optical properties, color, clarity and cut of gemstones.
Gems Glossary


Ever wonder what are "Blemish", "Luster", "Saturation" "Uniformity" or "Mine Run" means?

Reference and Links
Recommended books and links to Gem, Jewelry&Mineral Magazines, Gem Institutes and Labs.