Dumortierite is a fibrous variably colored aluminium boro-silicate mineral that is primarily used as an ornamental stone. It has a deep violet to blue color that is quite attractive and unusual. Although rarely used as a gemstone due to its lack of clarity, its hardness and bright color make it useful for the manufacture of all kinds of carvings. Massive dumortierite can be carved into cabochons, beads, sculptures, eggs and spheres. Facet quality dumortierite is extremely rare and few specimens exist anywhere.
Dumortierite , Al6.5-7BO3(SiO4)3(O,OH)3, crystallizes in the orthorhombic system typically forming fibrous aggregates of slender prismatic crystals. The crystals are vitreous and vary in color from brown, blue, and green to more rare violet and pink. Substitution of iron and other tri-valent elements for aluminium are the cause of the color variations. Dumortierite has a hardness of 8.5 and a specific gravity of 3.3 to 3.4. Crystals show pleochroism from red to blue to violet.
A variety of quartz called dumortierite quartz is actually massive quartz colored blue by included crystals of dumortierite. Dumortierite can be confused with other ornamental stones such as sodalite, lazurite and lazulite. Blue sodalite has more white portions and is much lighter in density while Lazurite and lazulite are not fibrous at all. Dumortierite has also been used as a imitation lapis lazuli in some carvings.
Dumortierite is related to several other nesosilicate boro-silicates such as grandidierite, harkerite, holtite, kornerupine, magnesiodumortierite, prismatine and werdingite but dumortierite is much more common than all of these. Dumortierite is commonly found in aluminum rich metamorphic rocks in contact metamorphic regions and in some pegmatites.
Dumortierite was first described in 1881 for an occurrence in Chaponost, in the Rhône-Alps of France and named for the French paleontologist Eugene Dumortier (1803-1873).
Known Facts

Color Key:

red, blue, violet, pink, brown.

Refractive Index:

1.659 - 1.692

Chemical Composition:

Al6.5 - 7(BO3)(SiO4)3(O, OH)3

Hardness:

7 - 8.5

Density:

3.3 - 3.4

Crystal Group:

Orthorhombic

Ocurrence:

Notable Occurrences include the type locality of Beaunan, France as well as Quartzite, La Paz County, Arizona; Colorado; Oreana, Nevada; New York, New York and Alpine, San Diego County and Los Angeles County, California, USA; Magadanskaya, Siberia, Russia and Sahatany, Madagascar, Tanzania.

Associated Minerals are numerous and include quartz, kyanite, sillimanite, staurolite, andalusite, muscovite, lazulite and pyrophyllite. The color is typically blue to violet, but also pink and brown in some cases. The luster is vitreous to dull and crystals are normally translucent but nearly opaque in massive specimens. Crystal habits may prismatic crystals but are more commonly massive, columnar and fibrous. Cleavage is good in one direction and poor in four others. The fracture is uneven to hackly.

Dumortierite is thought to promote accomplishments, positive attitudes, courage, trust, and harmony. It is said to enhance organizational abilities, precision, and self discipline.
Illustrations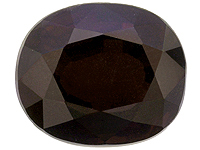 Knowledge Search

/
Enter one or more keywords (i.e madagascar sapphires ).
Gem Library/
Gems Legend and Lore
Some of the latest of ways that gems have been associated with Birthstones and Signs of the Zodiac.
Understanding Gemstones
Learn about Physical and Optical properties, color, clarity and cut of gemstones.
Gems Glossary


Ever wonder what are "Blemish", "Luster", "Saturation" "Uniformity" or "Mine Run" means?

Reference and Links
Recommended books and links to Gem, Jewelry&Mineral Magazines, Gem Institutes and Labs.