Diaspore has been available since the early 1800's and is mentioned in George Kunz's book "The Curious Lore of Precious Stone" where the stone is linked to the Christian name Dorothy.
Known Facts

Color Key:

gray, khaki green, pink, light purple

Refractive Index:

1.70 – 1.75

Chemical Composition:

AlO(OH)

Hardness:

6.5 - 7.0

Density:

3.30 – 3.39

Crystal Group:

Orthorhombic

Along with, alexandrite, color change garnet, and color change sapphire, diaspore is one of the few gemstones that may change color as a function of the lighting conditions. The gem is currently mined at only one location in the world, Anatolia, Turkey and supply is said to be very limited.

Although the color change is normally not very strong, Diaspore can shift from a kiwi green or gray in daylight to a rhodolite purplish-pink under incandescent light. but normally the color. Mostly recently the trade name "Zultanite" has been adopted for this stone.

Diaspore (Zultanite) is believed to help improve ambition, intellect and is said to help one develop psychic powers.
Illustrations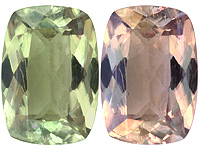 Knowledge Search

/
Enter one or more keywords (i.e madagascar sapphires ).
Gem Library/
Gems Legend and Lore
Some of the latest of ways that gems have been associated with Birthstones and Signs of the Zodiac.
Understanding Gemstones
Learn about Physical and Optical properties, color, clarity and cut of gemstones.
Gems Glossary


Ever wonder what are "Blemish", "Luster", "Saturation" "Uniformity" or "Mine Run" means?

Reference and Links
Recommended books and links to Gem, Jewelry&Mineral Magazines, Gem Institutes and Labs.