Romantic in history and symbolic of love, diamond is of course the most famous, popular, and hardest of all gemstones. Diamonds were reputed by the Greeks to endow the wearer with purity, love, and joy.
Known Facts

Color Key:

White, yellow, brown, black. Rarely, blue, red, or pink.

Refractive Index:

2.417

Chemical Composition:

C

Hardness:

10

Density:

3.52

Crystal Group:

Cubic

Ocurrence:

Africa, Russia, Canada, Australia, India

Sign of the Zodiac:

Aries

Month of the year:

April

Anniversary:

30th and 60th

Planet:

Mars

The diamond is considered the greatest of stones, revered throughout the ages for its great beauty, and strength, and also for its powerful positive spiritual and physical influences. The diamond is said to enhance the wearer with charm and beauty. Physically it strengthens the kidneys and reproductive organs and gives protection in severe disease. The ancient Romans believed that the diamond, when worn on the left arm, next to the skin, would give the wearer bravery and daring. During the Middle Ages Queen Elizabeth I was given a diamond to ward off the plague. The diamond is particularly lucky for Aries people when worn on the left side of the body.
Illustrations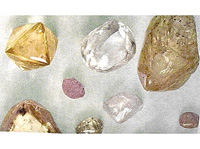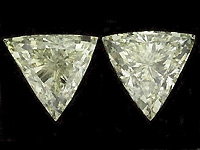 Knowledge Search

/
Enter one or more keywords (i.e madagascar sapphires ).
Gem Library/
Gems Legend and Lore
Some of the latest of ways that gems have been associated with Birthstones and Signs of the Zodiac.
Understanding Gemstones
Learn about Physical and Optical properties, color, clarity and cut of gemstones.
Gems Glossary


Ever wonder what are "Blemish", "Luster", "Saturation" "Uniformity" or "Mine Run" means?

Reference and Links
Recommended books and links to Gem, Jewelry&Mineral Magazines, Gem Institutes and Labs.