There are two prominent subspecies of quartz, crystalline and cryptocrystalline. The fine grained cryptocrystalline varieties are usually known collectively as chalcedony. The most prized of all the chalcedonies, chrysoprase, is the fine grained fibrous apple green variety. It owes its lovely color to the presence of hydrated nickel silicate. It is usually either cut as cabochons or as beads and carvings.
Illustrations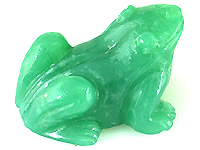 Knowledge Search

/
Enter one or more keywords (i.e madagascar sapphires ).
Gem Library/
Gems Legend and Lore
Some of the latest of ways that gems have been associated with Birthstones and Signs of the Zodiac.
Understanding Gemstones
Learn about Physical and Optical properties, color, clarity and cut of gemstones.
Gems Glossary


Ever wonder what are "Blemish", "Luster", "Saturation" "Uniformity" or "Mine Run" means?

Reference and Links
Recommended books and links to Gem, Jewelry&Mineral Magazines, Gem Institutes and Labs.