Chondrodite is a neosilicate and a member of the humite family of minerals. It is formed in hydrothermal deposits and associated with dolomite, skarn, and serpentinite. It is closely related to clinohumite and impossible to differentiate from it with standard gemological tests . As a mineral, it is the most common member of the humite group but gem quality pieces are uncommon. The name is derived from the Greek for "grain" in allusion to its occurrence in isolated grains.
Known Facts

Color Key:

Yellow, Red or Brown.

Hardness:

6 - 6½

Density:

3.16 - 3.26

Crystal Group:

Monoclinic

Ocurrence:

Finland, Tanzania, Greenland, USA.

Other members of the humite group include; alleghanyite, clinohumite, manganhumite, sonolite, ribbeite, leucophoenicite, and jerrygibbsite. In terms of gemology, there is no easy way to separate clinohumite from chondrodite and only best equipped labs can manage it.
Illustrations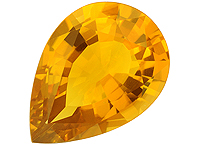 Knowledge Search

/
Enter one or more keywords (i.e madagascar sapphires ).
Gem Library/
Gems Legend and Lore
Some of the latest of ways that gems have been associated with Birthstones and Signs of the Zodiac.
Understanding Gemstones
Learn about Physical and Optical properties, color, clarity and cut of gemstones.
Gems Glossary


Ever wonder what are "Blemish", "Luster", "Saturation" "Uniformity" or "Mine Run" means?

Reference and Links
Recommended books and links to Gem, Jewelry&Mineral Magazines, Gem Institutes and Labs.