The name anatase is derived from the Greek word anatasis, which means extension, to describe the elongated crystal habit compared to other tetragonal minerals. Anatase is one of several rutile polymorphs and is found in igneous and metamorphic rocks and as a detrital mineral in sediments. Crystalline polymorphs are materials that are chemically identical but exist in more than one crystal form.
Known Facts

Color Key:

Brown, pale yellow,reddish brown, indigo, black, light green, lilac, Grey or nearly colorless, yellow brown, or blue in transmitted light.

Refractive Index:

2.488 - 2.561

Chemical Composition:
TiO2
Hardness:

5.5 - 6.0

Density:

3.79 - 3.97

Crystal Group:

Tetragonal

Crystals of anatase are often found with a well-developed pyramidal or tabular habit. They can be blue, red, brown, or colorless, although examples of orange, dark red, reddish-brown, and bluish green also occur. Its pleochroism is weak but more distinctive in the intensely colored specimens. The blue coloration of anatase may be due to the presence of Ti3+ and Ti2+.

Anatase is a metastable mineral form of titanium dioxide. It may change to rutile under specific thermodynamic conditions. Anatase is one of the five forms of titanium dioxide found in nature. The others are Akaogiite, Brookite, Riesite, and Rutile.

It is usually found isolated as small, sharply developed crystals. Like its thermodynamically stable cousin, rutile, it crystallizes tetragonally. The mineral is mainly encountered as a black solid, although pure material is colorless or white. Some crystals may appear opaque because of total reflection.

Due to its potential application as a semiconductor, anatase has been grown synthetically.
Illustrations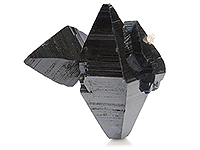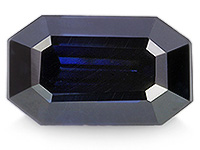 Knowledge Search

/
Enter one or more keywords (i.e madagascar sapphires ).
Gem Library/
Gems Legend and Lore
Some of the latest of ways that gems have been associated with Birthstones and Signs of the Zodiac.
Understanding Gemstones
Learn about Physical and Optical properties, color, clarity and cut of gemstones.
Gems Glossary


Ever wonder what are "Blemish", "Luster", "Saturation" "Uniformity" or "Mine Run" means?

Reference and Links
Recommended books and links to Gem, Jewelry&Mineral Magazines, Gem Institutes and Labs.