Tahitian Pearls
Tahitian pearls are among the most exotic and sought-after cultured pearls. While very often described as black, their colors cover the full spectrum from dark-black to silver-white, and nearly every color in between.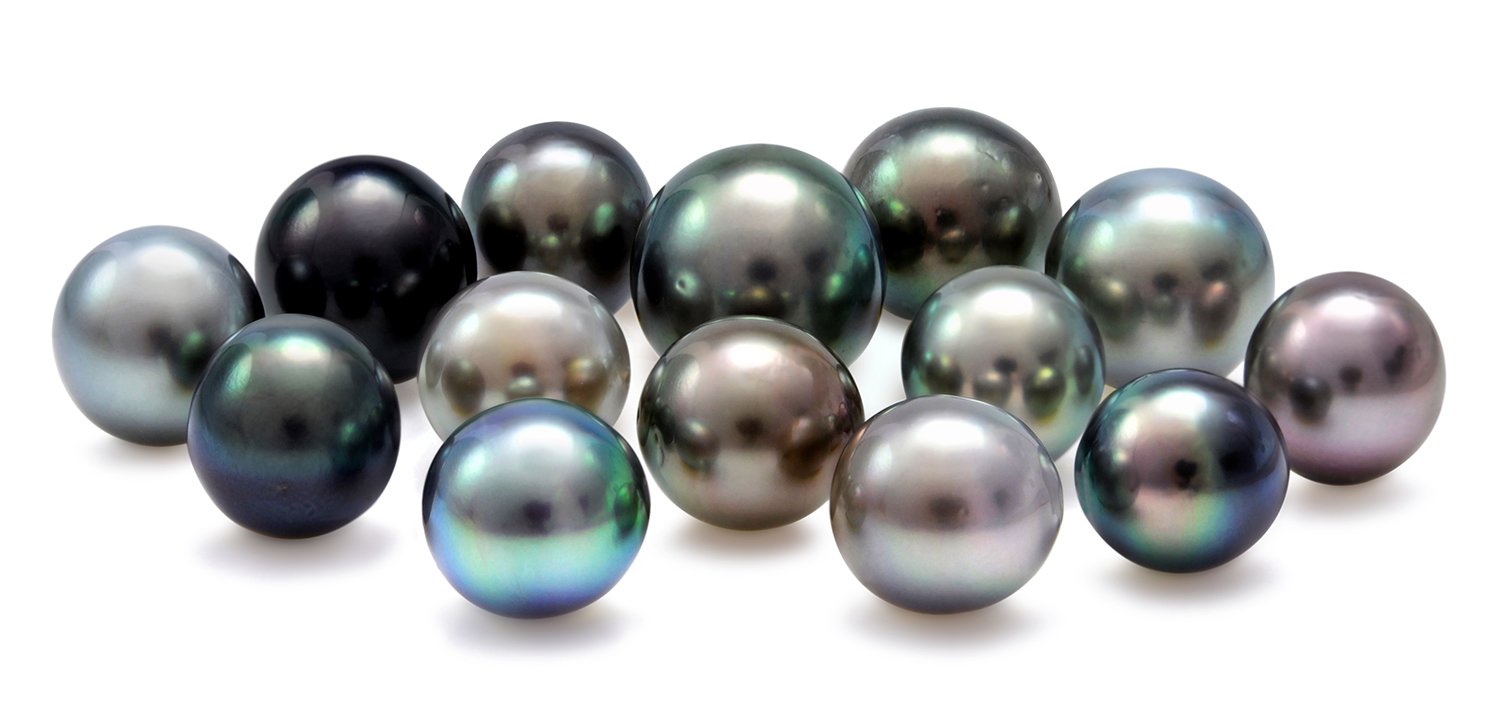 Tahitian Pearls are most commonly referred to as black pearls but it would be a mistake to identify all black pearls as Tahitian, although only Tahitian Pearls produce their black aspect naturally. They are also distinctive for their large sizes and the magnificent colors and hues in which they occur. In the trade, they are often ascribed with names such as, black, silver, peacock, pistachio, and aubergine.
The only localities producing commercial quantities of Tahitian pearls are in French Polynesia and the Cook Islands and farms in Fiji, and Okinawa, although other areas are being developed. Black pearls are also found in the Gulf of California and are known as Baja or La Paz pearls.
Tahitian pearls are grown in the black lipped oyster (Pinctada margaritifera). The pearl sizes range from 8mm to 17mm but most measure between 9 and 11mm. It is the only oyster that regularly produces the unusual colors that characterize Tahitian pearls.
Tahitian pearls can be found in a variety of shapes, but rounds are the most expensive followed by drops. The more symmetrical the shape, the higher the valuation. Although baroque shapes and circled pearls with ring like formations around them are considered to be less valuable, they can equal or even surpass the beauty of the ideal shapes.
Since the 1960's almost every Tahitian pearl that is sold is cultivated. In the mid 1990's, the preferred coloration of black pearls was dark gray with green and pink overtones (peacock colors). Lighter and silvery colors gained popularity along with multicolored strands by the end century. Well matched strands of large lustrous Tahitian cultured pearls with their unusual colors command high prices and have shown an upward trend ever since their introduction.
In mid 2001, after a period of price reductions from too much low quality product, the French Polynesian government issued nacre thickness and surface quality export standards. Enforcement of those standards, along with an exceptionally strong and widespread marketing campaigns indicate that the upward trends will probably continue.