March 31, 2006
Largest tsavorite in the world discovered.
by David Weinberg
120.68 cts can claim a title of the largest tsavorite in the world discovered to date.
An exceptional stone, probably the largest fine color clean Tsavorite in the world was found near Arusha, Tanzania at the border of the original block B tanzanite mining area, (Block B extension), at a depth of 160 meters. The area is more specifically known as Karo. Even with a loupe, this stone is extremely clean. Other large tsavorites have been unearthed in the last two or three years but they are lighter in color. Although there may be one or two larger tsavorites in existence, the color of this stone is better and the color is in the top range of colors that tsavorite can occur in. Weighing 120.68 cts., the gemstone cutting and proportions are good and there is no windowing. The stone was step cut and measures 34.70 x 25.30 x 17.50mm.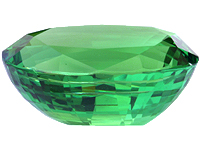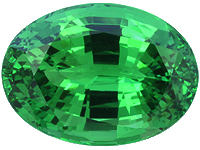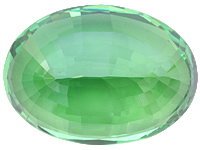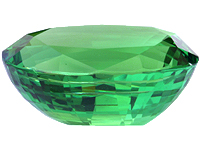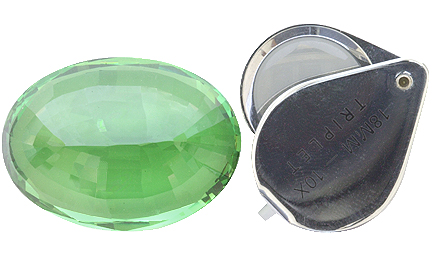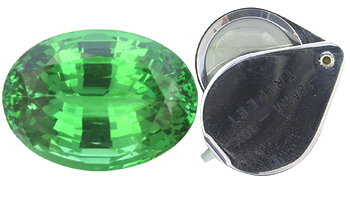 Tsavorite garnet was first discovered in Tsavo national park near the border between Kenya and Tanzania. A member of the garnet group, the species is grossularite and the variety is tsavorite. The attractive green color of Tsavorite is caused by the presence of chromium and vanadium. Tsavorite is a trade name often associated with darker green garnets but there is no universally accepted standard that designates which shade of green qualifies as tsavorite. Gemologists at Multicolour.com consider the presence of chromium to be the proof and they refer to green chromium bearing grossularites as Tsavorites.
Tsavorites are relatively hard so they polish well. Like all garnets, they are singly refractive and as a result can be especially brilliant. Suitable in any kind of jewelry, tsavorites offer excellent value and utility at a price more affordable than emeralds, especially in smaller sizes. Clean stones over 10cts. in size are extremely rare and much more expensive.
Much of the recent productions has centered around Voi, Kenya but some tsavorite has also been found near Arusha, Tanzania in the block D tanzanite deposit near Meralani as well as occasional stones in the Tunduru gem gravels in southern Tanzania. It is interesting to note that since the darker material is from Kenya and the lighter colors are from Tanzania, the Kenyans insist that only the darker stones should be called tsavorites.
---
Related links