January 7, 2007
Giant size top color clean tsavorite discovered in East Africa
by David Weinberg
Weighing in at 325.14 carats and priced well over two million dollars, this extraordinary tsavorite is one of the largest most valuable gems ever to be discovered in East Africa.
An exceptional gemstone, most likely the largest fine color clean tsavorite in the world was discovered near Arusha, Tanzania. The stone was found at the border of the original block B tanzanite mining area (Block B extension), at a depth of 160 meters. The area is locally known as Karo.
The uncut stone weighed 185 grams and was examined by Dr. H. Hanni of SSEF Swiss Gemmological Institute during a recent trip to Arusha. The stone was preformed and faceted in Thailand and certified by Dr. A. Peretti at the GRS Gemresearch Swisslab in Bangkok. The impressive size and saturated color combined with remarkable clarity and transparency put this stone in a class of its own. According to Dr. A. Peretti's report, -- "One Magnificent Gemstone".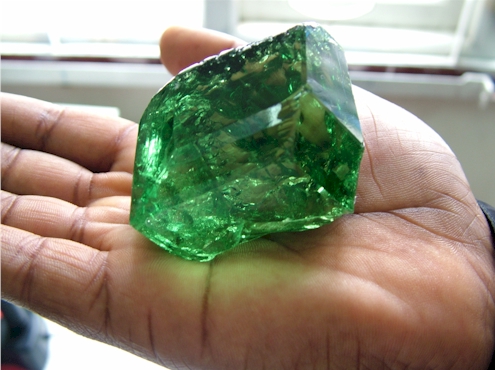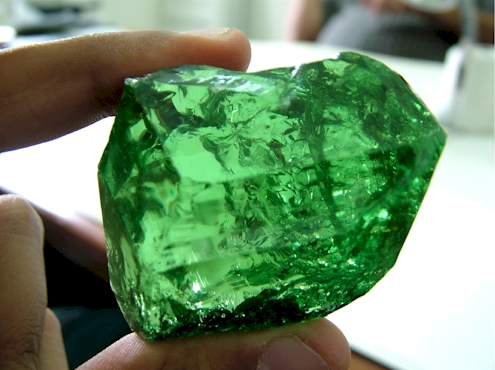 Even tsavorites over 2 cts. in size are considered to be rare so an amazing stone like this will certainly end up with a collector or in a museum. The stone is step cut with good proportions and superior transparency and measures 42.11 x 36.46 x 28.34 mm. The GIA color was graded as G 4/5 - G 4/6 (medium tone, strong to vivid saturation) using the GIA 324 color comparison set. Although difficult to verify, our research indicates that at 325.13 carats, this stone is the probably the largest and definitely the largest clean tsavorite in the world. In a smaller size, material like this would be much lighter in color but in such a large size, the tone darkens to that illusive jello green that every connoisseur of tsavorite asks for -- not too light and not too dark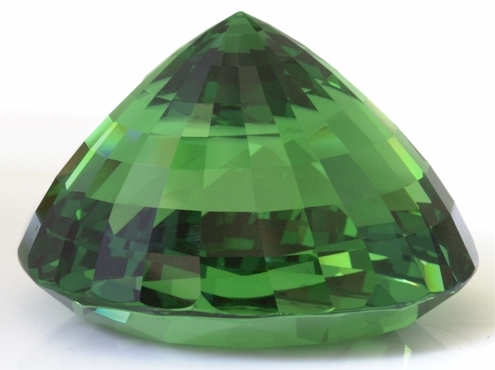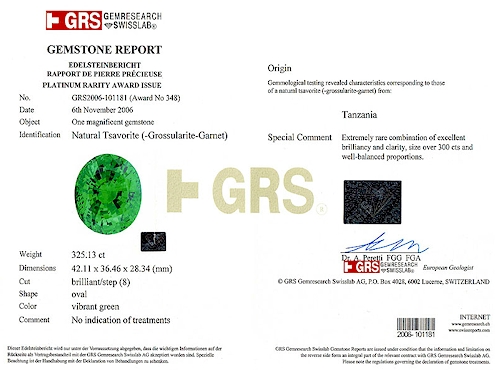 Tsavorite garnet was first discovered in Tanzania in 1968, and was named after Tsavo National Park by the promoters from Tiffany & Co. Tsavo national park is located near the border between Kenya and Tanzania. A member of the garnet group, the species is grossularite and the variety is tsavorite. Tsavorite is said to be the most valued variety of this species. Although tsavorite is the name usually associated with the darker green garnets, there is no universally accepted standard that designates which shade of green qualifies as tsavorite.
Many experts believe tsavorite will be the next demantoid, extinct and ultra- rare. It is often called the Rolls-Royce of greens at Cadillac prices. From a collectors perspective, tsavorite is 200 times more rare than emerald, it is cleaner, more brilliant and not oiled or treated in any way. At 1/4 - 1/2 the price of emerald, tsavorite offers excellent value when we consider its rarity. Today there are only a few mines operating in Kenya and Tanzania. Any stone above three carats is considered to be large and exceedingly rare. Sporadic production probably means higher prices and prices have been rising steadily. Collectors should look for bright attractive highly saturated greens, and avoid over dark stones.
---
Related links