October 5, 2007
Giant red spinel crystal discovered in East Africa.
by David Weinberg
"When the stone finally arrived, the miner´s legs were bloodied from holding the heavy sharp-edged rock on the motorcycle".
They dug it out of a farmer´s field in Mahenge. An enormous red spinel crystal weighing over 52kgs. If may be the largest red spinel ever unearthed!
Mined at depth of 10 meters, the pyramid shaped rough was discovered by a group of miners in the alluvial deposit. Mining in the area is normally conducted by loosely organized syndicates of small miners funded by local entrepreneurs.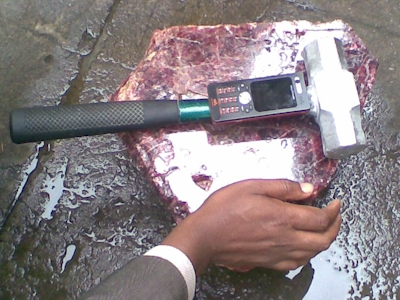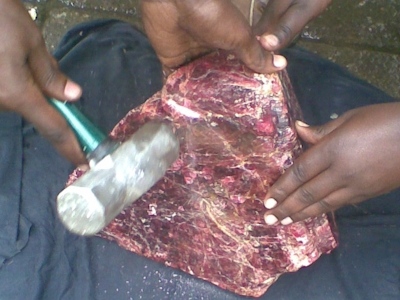 The discovery almost sparked a riot as hundreds of other diggers moved in for a piece of the action. Besides being lucky, the finders of the really special stones also need to be strong and fast – everybody wants stones like that and they´re willing to fight for them too! After escaping into the bush on a motorcycle, the miner and the motorcycle driver were forced to lay low without food and water for several days before making their way on to Morogoro. From there, they traveled on to Arusha to show their rock. The buyer who wishes to remain anonymous said "when the stone finally arrived, the miner´s legs were bloodied from holding the heavy sharp-edged rock on the motorcycle".
The impressive crystal was the vibrant orangey pinkish red color that is considered to be top for spinel. Although most of the crystal was included, it was obvious that significant chunks of clean gem material could be cobbed from it. Even though the yield is expected to be as low as 3%, the sheer size of the rough still translates into several thousand carats of gems.
The gemmy chunks are being faceted in Thailand and several clean stones of over 30 carats. have already been cut and sold. Although most of the stones are small, a significant number of stones ranging in weight between 5 and 20 carats have already been faceted and the cutting continues. One piece is expected to cut a near clean stone over 50 carats. Ultimately, this one giant crystal will cut many exquisite gems and dealers have been lining up to buy first. Although the color of Burmese spinels can be exceptional, clean stones as large as these are unheard of in Burma.
Many of the stones are expected to be sold in Europe where the strong euro makes gem prices especially attractive right now. As the processing of the rough continues, a good selection of stones will also be available online at www.multicolour.com.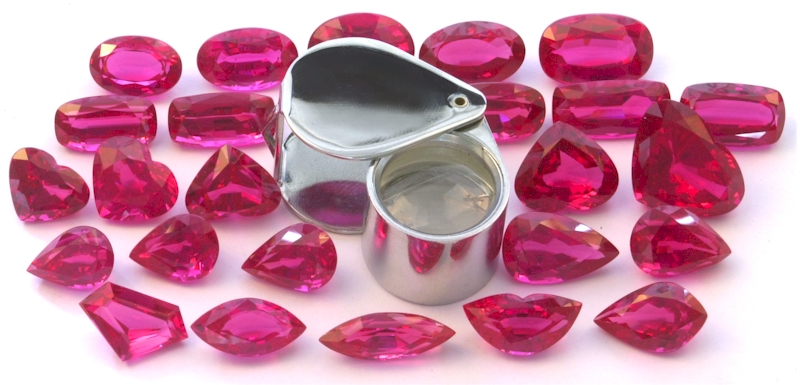 Historically, the large spinels of the Russian and European Royal collections contained spinels from the Pamir mountains in Afghanistan and Tajikistan. As gemological science was in its infancy and ruby was yet to be defined as corundum, they were called rubies at the time. Britain went to war with Spain over the Black Prince of Wales Ruby, which is a fine spinel polished en cabochon and a part of the Crown Jewels.
As with so many of the richest gem deposits, every major discovery seems to lead to conflicts and disputes. Nobody cares about the thousands of holes that hardly produce anything but when an important discovery occurs, there is always fighting between claim holders, diggers, land owners, and government officials. For now, this deposit is closed while the ownership of the claims is determined in court. This case will not be settled for at least two years and there will not be any mining in this area until then.
Periodically, colored stones that were always in short supply come onto the market in a mini-glut, as miners stumble across a rich pocket. The glut may continue and give the impression of an abundance of stones but the situation always changes and that stone invariably becomes scarce again.
---
Related links