HaŁyne (pronounced "how-een") is an extremely rare mineral discovered in southern Italy in 1807. It was named in honor of the French mineralogist and crystallographer Rene HaŁy who was the first to study and describe this illusive mineral. HaŁy was the curator of the Musťum National d'Histoire Naturelle in Paris at the time.
Because of its perfect cleavage and brittleness, Hauyne is very difficult to facet. It is sensitive to both heat and acids. Its intensive color and extreme rarity in larger sizes, make it an ideal collector stone. The largest known HaŁyne crystal only measures some 3.2cm and was found by a private prospector in 2012 in Germany. Most crystals are smaller than 5mm and as a result, any faceted gems will never be large. Even cut stones weighing less than .10cts. are considered to be a rarity. Hauyne is one of the most expensive of all gemstones and even 2mm stones may command prices that can easily exceed $1000/ct.
Known Facts

Color Key:

Deep blue, sky blue, white, greenish-blue. Rarely green.

Refractive Index:

1.494 to 1.509

Chemical Composition:

Na6Ca2Al6Si6O24(SO4)2

Hardness:

5.5 - 6.0

Density:

2.4 - 2.5

Crystal Group:

Cubic

Ocurrence:

The Laach Lake volcanic complex in Eifel, Rhineland Germany; the Canary Islands; Ecuador; the Kokcha Valley of Afghanistan; in the USA at the Edwards Mine, at St. Lawrence County in New York, in Montana and at Cripple Creek, Colorado; in Italy; Austria; Canada; several African states; and even in Greenland.

Hauyne can be found in association with Igneous, or Metamorphic rock types. The classic locality of Hauyne is considered to be at Monte Somma, Vesuvius, Italy, where the exceptional neon blue colors were initially found. Currently, the most important supply of Hauyne is from a deposit in Germany where it is found in association with alkaline volcanic rocks in the vicinity of Laacher Lake in the Eifel Mountain district. The highest prized specimens of HaŁyne are found here and are of an unusual vibrant neon cobalt blue color.

The German HaŁyne was formed in a magma chamber, with other minerals including plagioclase, sanidine, nosean, nepheline, leucite, apatite, olivine and other alkaline volcanic rocks. It is thought that this eruption occurred more than 12,000 years ago and the Hauyne is revealed in several layers. The area is commercially mined for pumice and basalt but the Hauyne can be collected in the quarries on the weekends.

Other less important localities include; the Canary Islands, Ecuador, the Kokcha Valley of Afghanistan and, in the USA at the Edwards Mine, at St. Lawrence County; in New York, at Winnett, Petroleum County; in Montana and at Cripple Creek, Colorado.

Hauyne forms a solid solution series with Lazurite and shares the same chemical formula but with a variation of the sulfide instead of the sulfate. Crystal forms include octahedral aggregates and dodecahedral crystals which are less common. Hauyne may fluoresce orange-brown in shortwave ultraviolet light.
Illustrations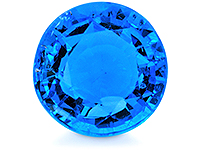 Knowledge Search

/
Enter one or more keywords (i.e madagascar sapphires ).
Gem Library/
Gems Legend and Lore
Some of the latest of ways that gems have been associated with Birthstones and Signs of the Zodiac.
Understanding Gemstones
Learn about Physical and Optical properties, color, clarity and cut of gemstones.
Gems Glossary


Ever wonder what are "Blemish", "Luster", "Saturation" "Uniformity" or "Mine Run" means?

Reference and Links
Recommended books and links to Gem, Jewelry&Mineral Magazines, Gem Institutes and Labs.