In 1937, gemologists B.W. Anderson and C.J. Payne reported the existence of a zinc-rich type of gem spinel that was transitional between spinel and gahnite and was rich in zinc. The name gahnospinel was then suggested for this species, which ranges from pale to dark blue and green.
Known Facts

Color Key:

Dark Greenish, Dark Blue.

Refractive Index:

1.74 - 1.75

Chemical Composition:
(Mg,Zn)Al2O4
Hardness:

8

Density:

4.1-4.40

Crystal Group:

Cubic

Ocurrence:

Tunduru, Tanzania; Ratanapura, Sri Lanka

Gahnospinel was originally reported from the gem gravels of Ratnapura in Sri Lanka. It is now known to also occur in the alluvial deposits from Tunduru, Tanzania albeit in very limited quantities. It looks like spinel, is singly refractive like spinel and falls within an identical color range. From appearance, its impossible to differentiate Gahnospinel from spinel but its specific gravity is somewhat higher.

From our investigations of mine run Tunduru spinels, the odds of finding a blue or a blue-green Gahnospinel seem to be in the order of something like one in ten thousand so these stones are quite rare. Black gahnospinel is either much more common or misidentified because it is being offered online from an undisclosed source in calibrated sizes.
Illustrations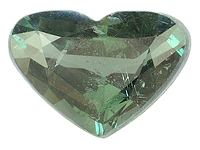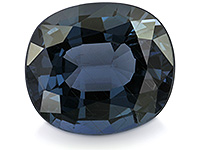 Knowledge Search

/
Enter one or more keywords (i.e madagascar sapphires ).
Gem Library/
Gems Legend and Lore
Some of the latest of ways that gems have been associated with Birthstones and Signs of the Zodiac.
Understanding Gemstones
Learn about Physical and Optical properties, color, clarity and cut of gemstones.
Gems Glossary


Ever wonder what are "Blemish", "Luster", "Saturation" "Uniformity" or "Mine Run" means?

Reference and Links
Recommended books and links to Gem, Jewelry&Mineral Magazines, Gem Institutes and Labs.