Quartz, the most common single mineral includes many varieties and sub-varieties. Amethyst is the name given to the variety which is transparent and light to dark purple in color. Although amethyst is found on almost every continent the dark transparent and clean stones are relatively rare and always in demand.
Known Facts

Color Key:

purple, violet

Refractive Index:

1.544 - 1.553

Chemical Composition:
SiO2
Hardness:

7

Density:

2.66

Crystal Group:

Hexagonal

Ocurrence:

Brazil, Uraguay, Bolivia, Madagascar, Russia, USA, Zambia

Sign of the Zodiac:

Pisces

Month of the year:

February

Planet:

Neptune

Purple has long been considered a royal color so it is not surprising that amethyst has been so much in demand during history. Fine amethysts are featured in the British Crown Jewels and were also a favorite of Catherine the Great and Egyptian royalty. Leonardo Da Vinci wrote that amethyst was able to dissipate evil thoughts and quicken the intelligence.
Illustrations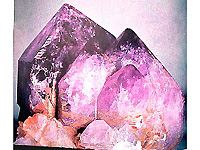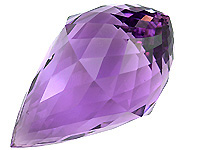 Knowledge Search

/
Enter one or more keywords (i.e madagascar sapphires ).
Gem Library/
Gems Legend and Lore
Some of the latest of ways that gems have been associated with Birthstones and Signs of the Zodiac.
Understanding Gemstones
Learn about Physical and Optical properties, color, clarity and cut of gemstones.
Gems Glossary


Ever wonder what are "Blemish", "Luster", "Saturation" "Uniformity" or "Mine Run" means?

Reference and Links
Recommended books and links to Gem, Jewelry&Mineral Magazines, Gem Institutes and Labs.