Quartz is the earth's most common mineral. It is found throughout the world and makes up approximately 12% of our crust. With a hardness of 7, quartz is tough enough to resist weathering and is commonly found in alluvial sands and gravels.
Rutilated quartz is named for the needles of rutile which have crystalized within the mother rock. Rutile is the most common natural form of titanium dioxide (TiO2), and it forms in long needle like crystals. The needles can be oriented quite randomly, or in specific directions related to the crystallography of the host.
Known Facts

Color Key:

Golden, greenish, silvery, gray, or black.

Refractive Index:

1.544 - 1.553

Chemical Composition:
SiO2
Hardness:

7

Density:

2.65

Crystal Group:

Trigonal

Ocurrence:

Kazakhstan, Australia, Brazil, Norway, Madagascar.

Sign of the Zodiac:

Aries

Month of the year:

January

The rutile needles may be reddish, golden, greenish, silvery, gray, or black. The refractive index of rutile is very high and much higher than its quartz host. As a result, the high relief of the disseminated crystals will always stand out. Rutilated quartz is normally cut en cabochon where the mass of distinctive needles can affect some dramatic results. If the needles are parallel, a catís eye may be apparent.
Illustrations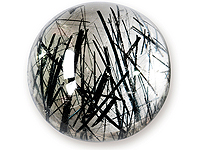 Knowledge Search

/
Enter one or more keywords (i.e madagascar sapphires ).
Gem Library/
Gems Legend and Lore
Some of the latest of ways that gems have been associated with Birthstones and Signs of the Zodiac.
Understanding Gemstones
Learn about Physical and Optical properties, color, clarity and cut of gemstones.
Gems Glossary


Ever wonder what are "Blemish", "Luster", "Saturation" "Uniformity" or "Mine Run" means?

Reference and Links
Recommended books and links to Gem, Jewelry&Mineral Magazines, Gem Institutes and Labs.